Step 1:
Measure the false lash against the natural lash to ensure the proper length. Cut the lash from the glue strip. Never cut the lashes.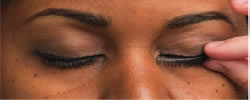 Step 2:
Bend the lash back and forth, creating a horseshoe shape so the lash contours to the curvature of the eye.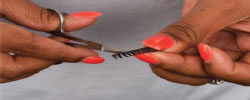 Step 3:
Apply the glue to the lash strip by creating a pool of glue and dragging the lash through it.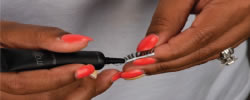 Step 4:
Allow the glue to dry to a semitransparent color.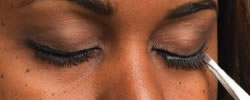 Step 5:
Apply the false lashes as close to the natural lash as possible, ensuring the inside and outside edges are secure. You may use the end of a brush to push the lash in place.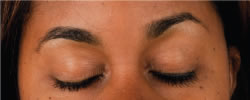 Step 6:
Allow to dry.
Bonus Tip:
If necessary, use Motives® Lustrafy Mascara to blend the natural lash with the false lash.
~~~~~~~~~~~~~~~~~~~

How to apply Motives Lash Adhesive (100MLG) and Motives False Eyelashes:
Measure false lash width and trim.
Hold with tweezers and apply Lash Adhesive to the base.
Allow glue to dry slightly.
With tweezer or flat synthetic brush, push lashes into lash line all the way from corner to corner.
Take tweezers and gently squeeze false lashes and natural lashes together.
Open eye and repeat on other eye.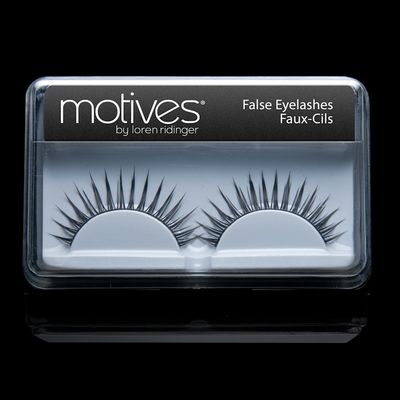 Source: Motives Application Manual
Please contact us using the form below  for your FREE copy of the Motives Application Manual in PDF format.