One of questions that I hear the most from people considering partnering with Motives Cosmetics and becoming Motives Beauty Consultants, is the question about "What Motives Cosmetics kits are available?"
My recommendation is, in most cases, that a new distributor start their business with one of the two Motives Cosmetics Fast Start Program kits that are only available when you register your business. They include the Market America Subscription kit plus all products listed below. Were you to purchase all the products in the Fast Start Kit at distributor cost, the items would run about $650-$700.  At only $399, this is a huge savings and, of course, this is why I recommend you start with it. The Fast Start program kits provide you with products that you can use to launch your business plus vital business building materials. It really is your business in a box.
Below, you will find a list of the two Fast Start Program kits and, below them, a few of the other Motives Cosmetics kits that are available to Motives Cosmetics Beauty Consultants. Please contact me for specific pricing information or availability.
Motives Fast Start Program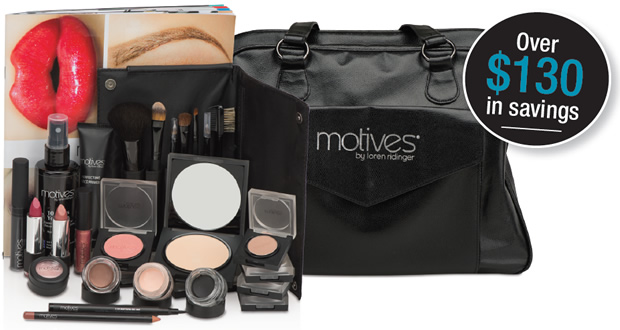 The Motives Fast Start Program container: Master UnFranchise® Business (300BV & 3 BDCs) | Independent Distributor Subscription Kit | Business-building materials | Motives Website
1 Lip Crayon
2 Pressed Blushes
2 Rich Formula Lipsticks
1 Lip Shine
1 Luxe Crème Eye Shadow
4 Pressed Eye Shadows
1 Lustrafy Mascara
1 Pressed Bronzer
1 Gel Eyeliner
1 Perfecting Face Primer
1 Luxe Precision Eye Line
1 10 Years Younger Makeup Setting Spray
1 7-Piece Essential Brush Set
1 Luminous Translucent Pressed Powder
1 40FY Lip Treatment
1 Eye Base
10 Motives Catalogs
One Motives Beauty Briefcase
Business Support Materials
Motives for La La Fast Start Program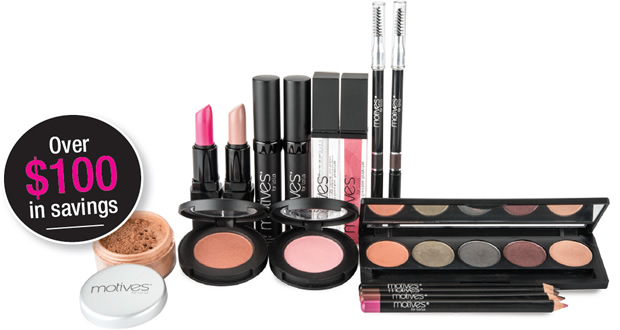 The Motives for La La Fast Start Program container: Master UnFranchise® Business (300BV & 3 BDCs) | Independent Distributor Subscription Kit | Business-building materials
1 Court Mineral Eye Shadow Palette
2 Mineral Lipsticks
2 Mineral Lip Shines
2 Mineral Volumizing & Lengthening Mascaras
2 Mineral Khol Eyeliners
2 Mineral Lip Crayons
2 Mineral Waterproof Eyebrow Pencils
2 Mineral Pressed Blushes
1 Mineral Bronzing Shimmer Powder
10 Motives Catalogs
Business Support Materials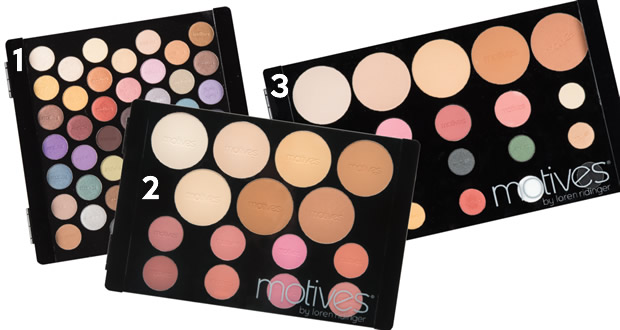 Motives Pro Color Kit*
The Motives Pro Color Kit (#1 and #2 in the picture above) is a basic palette of color that offers a wide range of versatile eye shadows, blushes and face powders to create any look using essential Motives colors.
This palette is perfect for use during consultations as it gives you all the necessary colors at your fingertips, providing the essential colors to help you create or complete any look and match any skin tone.
46 Pressed Eye Shadows,
8 Face Powders,
2 Translucent Pressed Powders and
12 Pressed Blushes.
Motives Nail Lacquer Collection
A collection of the hottest nail lacquers that features sexy, trendsetting shades that can be worn anytime and during any occasion.
30 shades of Motives and Motives for La La Nail Lacquer
Long-lasting color
Brilliant, chip-resistant finish
Easy, smooth application
Sexy, trendsetting colors for every look
Free of toluene, formaldehyde and DBP
Motives Custom Blend Foundation Starter Kit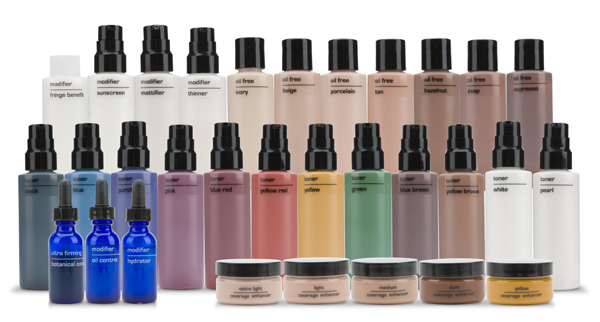 Your skin is unique to you and your lifestyle, and your makeup should reflect that. Motives Custom Blend Foundation Starter Kit allows you to match your skin tone, create any shade, and highlight or seamlessly conceal any feature. Motives Custom Blend cosmetics lets you create your own signature look according to your needs.
Motives Custom Blend Color Starter Kit includes:
Motives Custom Blend Modifiers (Hydrator) – The Hydrator contains sodium PCA and helps restore moisture in dehydrated skin
Motives Custom Blend Modifiers (Oil Control) – Has astringent, purifying and cleaning qualities recommended for oily skin
Motives Custom Blend Modifiers (Mattifier) – Gives foundation a powder finish
Custom Blend Modifiers (Thinner) – The Thinner is used to sheer the foundation base, making the foundation more transparent
Motives Custom Blend Modifiers (Fringe Benefits) – Locks in moisture and smoothes the skin. Contains sodium PCA, vitamin E and amethicon, which work in harmony to plump fine lines and restore radiance for healthy looking skin
Motives Custom Blend Bases (7 base colors – Ivory, Porcelain, Beige, Tan, Deep, Hazelnut, and Espresso) – The custom foundations come in three formulas. All three start with a medium coverage. The first base is oil free, the next is the enriched base, and the last type is the matte base. This product leaves the skin with an oil-free, matte shine and contains pomegranate extract, a natural sun-protective booster
Motives Custom Blend Toners (12 toners – Black, White, Yellow, Blue, Green, Pink, Purple, Blue/Red, Yellow/Red, Blue/Brown, Yellow/Brown, and Pearl) – Used to adjust your foundation color, the toners are intensive concentrates that make it possible to color-match any skin tone. Since they are not diluted with white, they never turn the foundation chalky
Motives Custom Blend Ultra Firming – Contains soy protein, which provides an immediate firming and tightening effect that will last throughout the day. The soy protein provides a more radiant appearance by softening and smoothing the skin
Motives Custom Blend Sunscreen – The Sunscreen additive is a lightweight, non-greasy additive that can be used in a custom blend foundation to enhance the SPF.
Motives Custom Blend Coverage Enhancer (5 colors – Extra Light, Light, Medium, Dark, and Yellow) – used to increase the pigment in the foundation from medium coverage to hide slight imperfections, such as freckles and dark circles, to maximum coverage as a concealer or a paramedical camouflage to cover more severe problems, hyper-pigmentation, post-surgical bruising or discoloration, scars and tattoos
Motives Custom Mineral Starter Kit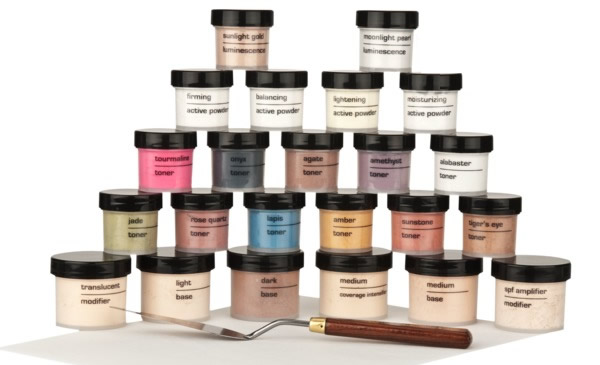 Motives Custom Mineral Starter Kit provides you with endless possibilities to create customized foundations, blushes, and bronzers for yourself and your clients. Motives® Custom Mineral Starter Kit is a convenient way to purchase all the components you will need to begin creating many Motives Custom Mineral Powders. The all-inclusive kit comes with the following products needed to blend the perfect foundation:
Motives Custom Mineral Bases – three shades that provide medium coverage
Motives Custom Mineral Toners – 11 shades to color match the foundation and skin tone
Motives Custom Mineral Modifiers – five modifiers to adjust coverage, iridescence and SPF
Motives Custom Mineral Actives – four actives that enhance the powder to maximize its benefits for the skin
Made from micronized minerals, the powders are lightweight and float along the skin, giving you a natural feel that lasts. Motives Custom Mineral Powders form a protective shield over the skin, allowing it to breathe. Formulated with titanium dioxide and zinc oxide, Motives Custom Mineral Powders are great for use on sensitive or treated skin. Blend a flawless foundation and fight the signs of aging with Motives Custom Mineral Starter Kit.
* Motives Cosmetics Kits are subject to change.  These products are updated seasonally due to changing trends in the market. Motives Cosmetics is always watching for the newest fashion and makeup trends and new products may be added while old products are discontinued. Please check with me to confirm what is included at the time of your purchase.
If you are interested in learning more about working with Motives Cosmetics, check out the three ways you can earn an additional income with this amazing line:
Please contact me using the form below and I will be happy to answer all your questions.