Incredible skin demands an incredible masque. Lumière de Vie Moisture Intense Facial Masque is the definitive treatment that is formulated with aloe to intensely moisturize while reducing oxidative damage from the everyday elements. Utilizing the powerful hydrating effects of hyaluronic acid, this specialized sheet masque instantly revitalizes dry, aged skin on contact.
Benefits you can expect:
Utilizes aloe to provide intense moisture
Formulated with hyaluronic acid to promote skin hydration
Gives skin a smoother and softer-looking appearance
Designed to be used in between spa visits to give skin a mini-facial
Conveniently packaged with two masques for bi-weekly treatment
Key Ingredients:
Aloe Juice

Aloe vera, naturally rich in enzymes, amino acids, vitamins, minerals, and other plant compounds, is a well-known moisturizing ingredient, helping to keep the skin hydrated and looking smooth and firm.

Glycerin

Glycerin is a skin conditioning humectant ingredient that helps keep the skin hydrated, helping it to retain a soft and smooth appearance.

Hyaluronic Acid

Hyaluronic acid is a vital moisturizer and lubricant found naturally in our skin. It provides superior, long term moisturization, helping to keep the skin hydrated and supple.
How do I use Lumière de Vie Moisture Intense Facial Masque?
After cleansing and toning the face, remove the Moisture Intense Facial Masque from its sealed packet and peel the protective film from both sides. Apply directly and evenly onto face and gently tap masque to remove air bubbles. Allow 10-25 minutes for the masque to activate and then gently remove from skin. Lightly massage any remaining product into face. Follow with your favorite moisturizer.
Will I see results immediately?
Results will vary for each individual based on their skin. Lumière de Vie Moisture Intense Facial Masque is formulated to revitalize dry, aged skin, and add hydration back into to the skin for a younger, smoother-looking appearance.
When should I use the Masque?
We recommend using this masque at night because the concentrated formula will leave a replenishing treatment on the skin that is to be massaged in. Leaving on overnight will maximize the hydrating benefits of the masque. In the morning you can cleanse skin as part of your daily routine.
Will my skin feel a tingling sensation while wearing the masque?
Some individuals may experience a tingling sensation due to the intense nature of the masque. This is expected and should subside once the masque is removed and the remaining treatment is massaged into the skin. If you do experience any skin irritation, discontinue use and contact a physician.
Why are there only 2 facial masques in the box?
Lumière de Vie Moisture Intense Facial Masque is such a powerful masque that it only needs to be used two times a month. You may use more often, as needed, but consider this product a mini-facial for your skin.
Is Lumière de Vie Moisture Intense Facial Masque tested on animals? 
Lumière de Vie does not conduct or commission animal testing of any finished product.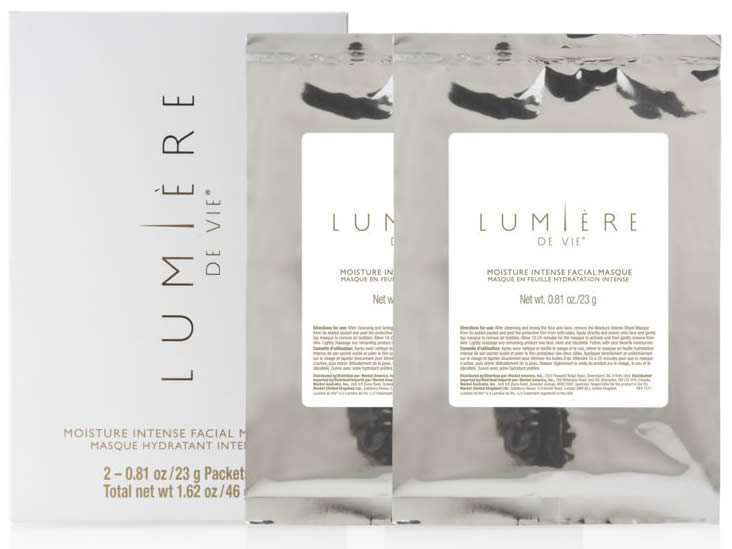 This is part 14 of 17 from our Lumière de Vie Product Series:
Lumière de Vie Moisture Intense Sheet Masque