Lumière de Vie Renewal Elixir is a luxurious, superior facial oil that deeply moisturizes and reduces the appearance of aging for a youthful-looking, healthy glow. This gentle multitasker utilizes a weightless blend of skin-loving oils to hydrate, strengthen and smooth for renewed and resilient skin. Texture and elasticity are supported, and the appearance of dark spots is minimized, giving your skin obsession-worthy radiance. Seal in hydration, maintain an even skin tone, and defy time with this powerful treatment that revives your skin.
What is a facial oil?
Facial oils are emollients which provide instant softness and smoothness to the skin. They also contain essential nutrients and fatty acids that help create a barrier between your face and the elements, so precious nutrients are sealed in to absorb effortlessly.
What are face oils for?
A good way to think of it is that oils alone are not moisturizers (and you shouldn't use them as such). Instead, they should accompany traditionally moisturizing ingredients like hyaluronic acid and glycerin.
What do face oils do?
While they're not the end-all-be-all solution to skin issues, they do their fair share by repairing and protecting the skin barrier, which helps skin absorb your other skincare products. If you're not seeing the dreamy skin you imagined you would from serums and moisturizers alone, an oil might be able to make that happen.
Benefits you can expect:
Moisturizes to reduce the appearance of rough skin
Improves skin elasticity
Reduces the appearance of wrinkles and dark spots
Helps skin feel firmer for younger-looking skin
Add to your favorite moisturizer for ultimate hydration
Key ingredients of Lumière de Vie Renewal Elixir:
Revinage®
Revinage® is a proprietary blend of Bidens Pilosa Extract, Palm Oil, Cottonseed Oil, and Flaxseed Oil. This multi-functional ingredient helps reduce the appearance of wrinkles for a smoother-looking complexion, helps reduce the appearance of dark spots for a more even-toned appearance, and helps the skin feel more supple.
Caprylic/Capric Triglyceride
Caprylic/capric triglyceride is a liquid ingredient made from fatty acids found in coconut oil and glycerin. It is classified as both an emollient and an occlusive skin conditioning agent.  As such caprylic/capric triglyceride helps lubricate the skin, keeping it feeling soft and smooth and helps moisturize the skin by forming a barrier on the skin's surface to slow the loss of water.
How do I use Lumiere de Vie Renewal Elixir?
Use on clean, dry skin, morning and night. Dispense a few drops into palms and pat over face and neck. Use alone or add a few drops to your favorite moisturizer for the ultimate renewal experience.
Will I see results immediately?
Lumière de Vie Renewal Elixir was formulated to help fight the skin aging process and promote a younger-looking complexion with daily use. With continued care, you will notice skin feels more hydrated and appears more radiant.
Should I use every morning and night?
Yes, for optimum results you should incorporate Lumiere de Vie Renewal Elixir into your morning skincare regime and after cleansing in the evening.
Will this product work with all skin tones and types?
Yes! Lumiere de Vie Renewal Elixir was created to work well with all skin tones. The skin-loving oils are ideal for most skin types as they work to provide much needed hydration.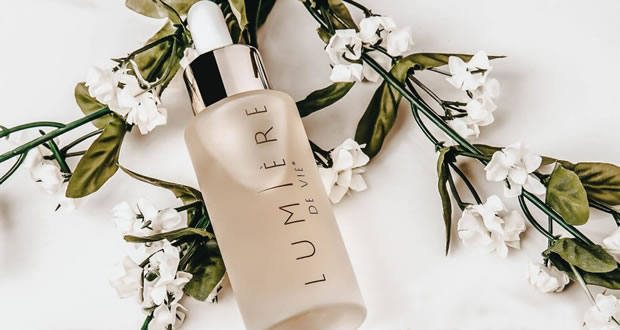 This is part 15 of 17 from our Lumière de Vie Product Series:
Lumière de Vie Renewal Elixir