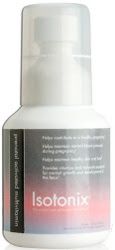 Market America is always working towards providing you with the most cutting-edge products and formulas. As a result of a strategic partnership with the exclusive supplier of Quatrefolic®, Market America is proud to unveil the only prenatal multivitamin on the market to provide Quatrefolic's nutritionally active form of folate in an isotonic delivery.
Announcing Isotonix Prenatal Activated Multivitamin, now with an even more advanced formula, providing 810 mcg of Quatrefolic — designed to provide what mom and baby need by delivering vitamins and minerals crucial for a healthy pregnancy in their active forms and via our superior isotonic delivery!
You will notice that Isotonix Prenatal Activated Multivitamin will feature one key update to the formula — a change from folic acid to the most biologically active form of folic acid, Quatrefolic — but will keep the same product price.
This single change to an already amazing formula will enable Isotonix Prenatal Activated Multivitamin to continue providing what expectant mothers need, now with the nutritionally active form of folic acid. Studies show that Quatrefolic, as a source of (6S)-5-methyltetrahydrofolate, might be particularly useful to provide the nutritionally active form of folate during preconception, pregnancy and lactation.
Primary Benefits of Isotonix Prenatal Activated Multivitamin*:
Provides vitamins and minerals essential for normal growth and development of the baby
Contains activated forms of select B vitamins to ensure optimal utilization by the body
Healthful diets containing adequate folate may reduce a woman's risk of having a child with a brain or spinal cord defect
0.8 mg folic acid in a dietary supplement is more effective in reducing the risk of neural tube defects than a lower amount in foods in common form. The FDA does not endorse this claim. Public health authorities recommend that women consume 0.4 mg folic acid daily from fortified foods or dietary supplements or both to reduce the risk of neural tube defects.
*These statements have not been evaluated by the Food and Drug Administration. This product is not intended to diagnose, treat, cure or prevent any disease.