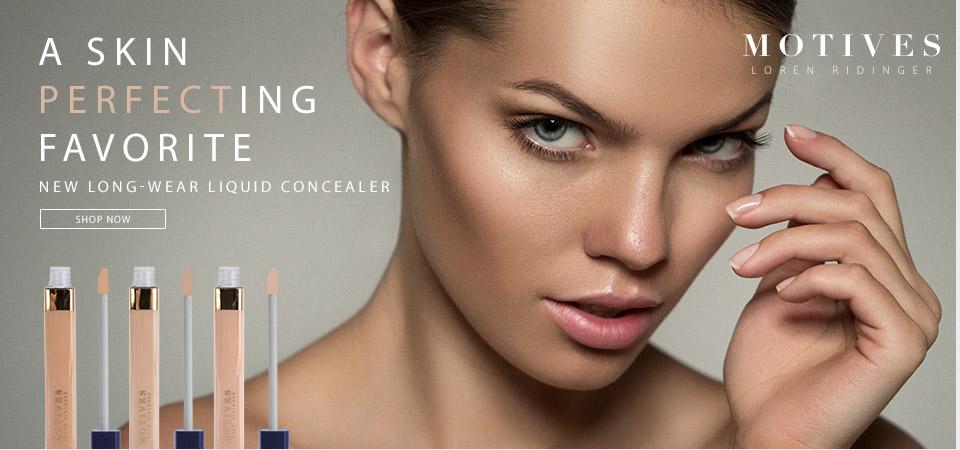 I am pleased to share some exciting news! All shades of Motives Long-Wear Liquid Concealer, that were announced in February, are available TODAY!.
Motives and Motives for La La Long-Wear Liquid Concealer is a lightweight liquid concealer that offers an invisible, matte finish. It is crease-resistant for long-wear coverage and conceals the look of under-eye circles for younger-looking, brighter skin. As a skin-perfecting favorite, it will help you experience flawless-looking skin, every day.
This product includes a doe-foot applicator for directly applying concealer to the under-eye area and other imperfections. Use a concealer brush to blend remaining product into the skin, resulting in a natural, matte finish.
While foundation provides a good base preparing your face for makeup application, it's not as effective at covering blemishes or concealing dark circles in the under-eye area. Since a concealer is thicker than foundation, it is an ideal product for spot treatment. It is designed to act as a temporary makeup solution to hide skin imperfections.
Benefits of Motives Long-Wear Liquid Concealer:
Conceals under-eye circles and imperfections
Smooth, even application that does not crease or transfer
Moisturizes for a smoother-looking appearance
Varying undertones of pink or yellow suitable for most skin tones
Long-lasting, medium to full coverage with a matte finish
Paraben free
Motives Long-Wear Liquid Concealer (three shades):
Light (Pink Undertone) – Code: 005MLCC
Light (Yellow Undertone) – Code: 006MLCC
Medium Light (Yellow Undertone) – Code: 007MLCC
Motives for La La Long-Wear Liquid Concealer (two shades)
Medium Dark (Yellow Undertone) – Code: 100MLLC
Dark (Pink Undertone) – Code: 102MLLC