Teens under 18 years of age can now turn their love of makeup into cash!
As the Motives® community, one thing we pride ourselves on is reaching out to younger generations who have a passion for beauty and an entrepreneurial spirit. We have a program that offers the technology and mentorship necessary to help you evolve as an entrepreneur.
The Motives Apprentice Program is for any aspiring beauty entrepreneur, between the ages of 14-18, who is passionate about the art of makeup and the empowerment behind helping others identify their unique beauty.
Create your own client base, refer friends and family to your OWN website and watch your business grow. You'll have the guidance of your Motives mentor and a community of other Motives professionals to help you achieve success as it pertains to YOU.
Motives Apprentice Exclusives:
Ability to purchase products at a discount through your Motives mentor
Flexible schedule that you create, empowering you to also pursue other passions
Creative control on how you want to promote your brand and business
Coaching from other successful beauty entrepreneurs on how to evolve as a makeup artist and/or business owner
Personal motivescosmetics.com website where customers can order products from you 24/7
Generate ongoing income through repeat orders
Ability to offer your friends a complimentary customer profile that links directly to your Motives retail site
Guidance on how to upgrade to owning your own business as a Motives Professional Beauty Advisor once
you reach the age of 18
What are the costs associated with signing up a teen as an associate?
There are no costs associated with signing up for the Motives & Me Program.  Your mini web site  is FREE.
An optional cost is the Motives Apprentice Kit for $50.00.
What about the Motives Apprentice Kit?
A perfect kit created exclusively for your Motives Teen Apprentices to get them off to a strong start with Motives. The Motives® by Apprentice Kit is a collection of favorite teen cosmetics.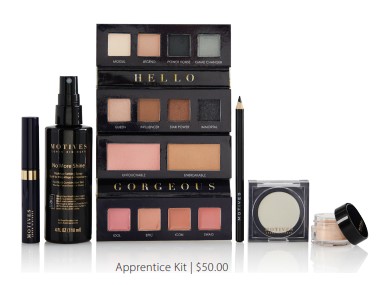 How does the apprentice receive their retail profit?
On the teen's website, they have the ability to manage their account, see the orders from their friends and family and see how much retail profit they have earned. There is also a button to request a payout. Once the teen requests a payout, the Customer Manager is alerted and will requests a payout from Market America for the teen's earned retail profit.
Is the apprentice allowed to go to company trainings?
The teen can attend any training that a normal guest can attend. Some of these include Motives Day 1: Application Training, Motives Day 2: Motives Business Building,  and Skin Care 101.  Motives Custom Blend Foundation and Custom Powder training is for Distributors only, so teens would not be allowed to attend.
Who can join The Motives Apprentice Program?
Teens may join the Motives and Me program anytime after their 14th birthday and before their 18th birthday.
Download the Motives Apprentice Flyer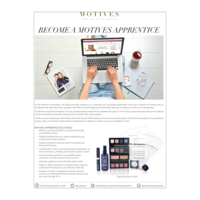 ** Updated 5/6/14 – Updated product links to those of the new site. **
If you are interested in learning more about working with Motives Cosmetics, check out the three ways you can earn an additional income with this amazing line:
Please contact me using the form below and I will be happy to answer all your questions.
Thanks,
Jonathan Glassman