Teens under 18 years of age can now turn their love of makeup into cash!
The Motives & Me program is perfect for teens that are looking to earn the cash they want, while having fun selling one of the hottest makeup lines in the country. It gives teenagers the opportunity to run their own business while being mentored and coached by a Motives Customer Manager. Customer Managers sign up a teen associate and assign the teen their own Motives® mini‐website.  The young entrepreneur can then refer customers to this website to purchase Motives products. With each sale the Motives Customer Manager will give the retail profit from that sale to the teenager.
What are the major benefits of joining the Motives & Me Program?
Flexible schedule so you can  work when you want
Earn extra cash while having fun selling one of the hottest makeup lines in the country
You can sell Motives products online through your very own website
Learn valuable business and sales skills for the future
What are the costs associated with signing up a teen as an associate?
There are no costs associated with signing up for the Motives & Me Program.  Your mini web site  is FREE.
An optional cost is the Motives and Me Teen Starter Kit.
What about the Motives and Me Teen Starter Kit?
A perfect kit created exclusively for your Motives Teen Associate to get them off to a strong start with Motives. The Motives® by Loren Ridinger Teen Starter Kit is a collection of favorite teen cosmetics, including two best selling Nail Candy, two pressed eye shadows, one crème eye shadow, one pressed blush, one eyeliner, and one lip shine. Please note only one kit sold per teen associate sign up.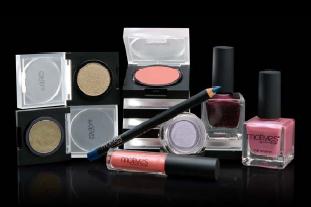 The teen starter kit includes:
The (optional) Motives and Me Teen Starter Kit costs $29.95 plus tax and shipping.
How does the teen receive their retail profit?
On the teen's website, they have the ability to manage their account, see the orders from their friends and family and see how much retail profit they have earned. There is also a button to request a payout. Once the teen requests a payout, the Customer Manager is alerted and will requests a payout from Market America for the teen's earned retail profit.
Is the teen allowed to go to company trainings?
The teen can attend any training that a normal guest can attend. Some of these include Motives Day 1: Application Training, Motives Day 2: Motives Business Building,  and Skin Care 101.  Motives Custom Blend Foundation and Custom Powder training is for Distributors only, so teens would not be allowed to attend.
Who can join Motives & Me?
Teens may join the Motives and Me program anytime after their 14th birthday and before their 18th birthday.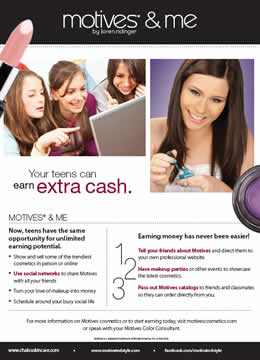 Download the Motives and Me Flyer
** Updated 5/6/14 – Updated product links to those of the new site. **
If you are interested in learning more about working with Motives Cosmetics, check out the three ways you can earn an additional income with this amazing line:
Please contact me using the form below and I will be happy to answer all your questions.
Thanks,
Jonathan Glassman