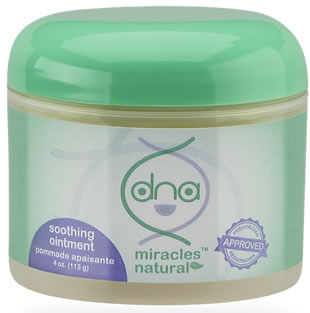 DNA Miracles Natural Soothing Ointment is a nontoxic formula strong enough to soothe and yet gentle enough for the softest skin. Using natural ingredients like willow herb, shea butter and coconut oil, this ointment protects your child's sensitive skin while locking in much-needed moisture. DNA Miracles Natural Soothing Ointment helps keep your baby's skin healthy and hydrated while providing soothing comfort.
DNA Miracles Natural Soothing Ointment is made from 100% natural ingredients.
Primary Benefits of DNA Miracles Natural Soothing Ointment:
Helps soothe skin
Moisturizes dry skin areas
Locks in moisture
Uses natural ingredients to protect sensitive skin
Key Ingredients Found in DNA Miracles Natural Soothing Ointment:
Cocos nucifera (Coconut) Oil.
Coconut oil is a pale yellow, semi-solid, oil that is pressed from the dried fruit of coconuts. It is composed of 90% saturated triglycerides, particularly lauric and myristic fatty acids. It is classified by the cosmetic industry as both an emollient and occlusive skin conditioning agent, suggesting that it can help keep the skin hydrated, and looking soft and smooth.
Ceramide 3.
Ceramides are a group of lipid molecules compised of sphingosine and a fatty acid. Ceramides support the skin's normal moisture retention and help maintain the skin's normal barrier system. These intensive hydrating properties help keep the skin looking smooth and supple.
Epilobium angustifolium Flower/Leaf/Stem Extract (Canadian Willowherb™).
An extract from the plant more commonly known as willowherb. Epilobium angustifolium contains phenolic compounds like tannins and flavonoids, as well as the powerful antioxidant "oenothein B". These plant compounds have properties that might help to soothe and condition the skin, thereby helping to keep the skin looking and feeling smooth and soft.
Isosorbide Dicaprylate (Synovea DOI®).
A corn-derived skin conditioning agent that supports long-term skin hydration to keep the skin looking soft and smooth.