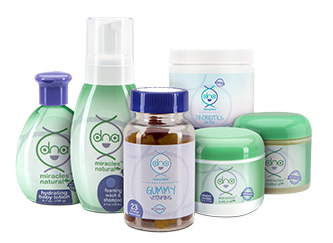 At the 2013 Market America (Motives parent company) International Convention, Amber Ridinger McLaughlin and Duane McLaughlin announced the new DNA Miracles Natural product line and since then, the buzz has been building around these pediatrician-approved, all natural products. This product line is now available for purchase.
DNA Miracles Naturals provide the highest quality body and wellness products designed for babies. All of its products are gentle, easy-to-use and 100% effective when used as directed. Market America has partnered with leading health professionals and scientists who follow the highest standards in ingredient selection to create the most effective skin, hair and health solutions.
…Because every child is a miracle.
DNA Miracles Natural Diaper Cream
Diaper creams are often the most common source of irritants for babies — a bad one can often do more harm than good due to the presence of the harmful ingredient 1,4-dioxane. It's an often-unlisted by-product of the manufacturing process in some creams, but it won't be found in DNA Miracles Natural Diaper Cream, a safe solution for diaper irritations that contains aloe and coconut oil to provide natural relief.
DNA Miracles Natural Hydrating Baby Lotion
Many parents mistakenly equate a pleasant smell with quality when choosing a moisturizer for their infant or toddler. They don't, however, note that this could be the result of unnatural, potentially harmful ingredients. DNA Miracles Natural Hydrating Baby Lotion carries the promise that it is made with natural, plant-based ingredients that are safe for your baby, while keeping their sensitive areas soft and protected — and it smells great.
DNA Miracles Natural Foaming Wash & Shampoo
Bath time for your baby should be an enjoyable time for you, and DNA Miracles™ Natural Foaming Wash & Shampoo will help ensure it's gentle. Its plant-based formulation is perfect for your baby's delicate skin and hair, eliminating dryness and soothing skin, and leaving them soft, soothed and completely huggable.
DNA Miracles Natural Soothing Ointment
DNA Miracles Natural Soothing Ointment is a nontoxic formula strong enough to soothe and yet gentle enough for the softest skin. Using natural ingredients like willow herb, shea butter and coconut oil, this ointment protects your child's sensitive skin while locking in much-needed moisture. DNA Miracles Natural Soothing Ointment helps keep your baby's skin healthy and hydrated while providing soothing comfort.
DNA Miracles Probiotics Extra is a synergistic blend of probiotics, prebiotics and vitamin D that supports your baby's intestinal health and immune system without upsetting the stomach, helping them maintain a healthy balance. Free of artificial colors and flavors, DNA Miracles Probiotics Extra gives your child the support they need at a price parents can afford.
Order DNA Miracles Natural products today and be assured it comes with more than just a promise of quality. They come with the peace of mind that you're providing only the best, safest products on the market for your child. Don't wait! Try them right now, and don't forget to also try the new DNA Miracles Gummy Vitamins!