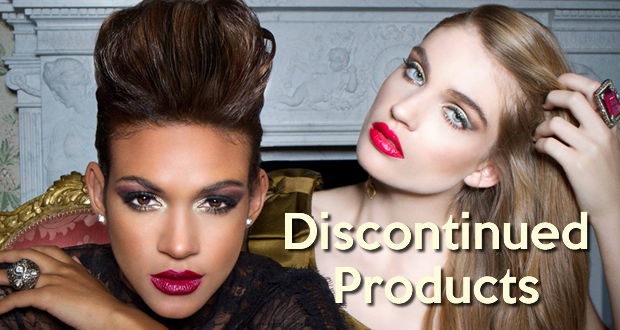 Last Updated: October 12, 2014
Motives by Loren Ridinger continues to evaluate the hottest trends and colors offered in the cosmetics industry. As we prepare to bring you the latest offerings, we have decided to discontinue certain products. These products will continue to offer 2% Cashback while supplies last.
Motives Pressed Eye Shadow
101MES – Pink Gold
166MES – Stardust
Motives Paint Pot Mineral Eye Shadow
103MPPES – Vogue
The following Motives products have been discontinued and are SOLD OUT. We appreciate your continued support of Motives as we prepare to bring you the hottest trends and colors in the beauty industry.
Motives Ageless Renewal Foundation
01MAF – Light-Porcelain
03MAF – Light-Blush
04MAF – Medium-Golden
06MAF – Medium-Tan
08MAF – Deep-Honey
Motives Eyebrow Pencil
51MBP – Medium Brown
52MBP – Dark Blonde
Motives Crème Blush
100MCB – Fiji
Motives Eye Candy Crème Shadow
198MCES – Bubble Gum
Motives Gem Dust
100MLES – 24K
Motives Luxe Crème Eye Shadow
190MCES – Metal
Motives Nail Lacquer
5420MNP – Ruby Slipper
5421MNP – All That Glitters
Motives Pressed Eye Shadow
110MES – Dusk
157MES – Teak
154MES – Cosmic
161MES – Liquid
171MES – Bronze Beauty
172MES – Twinkle
174MES – Goddess
176MES – Breaking Dawn
186MES – Moroccan Spice
187MES – Mykonos Blue
188MES – Luau
C174MES – Goddess
Mineral Gel Eyeliner
007GEL2 – Amethyst
Motives Pressed Blush
189MB – Devilish Diva
190MB – Eclipse
Motives Rich Formula Lipstick
110ML – Aware
210ML – Coral Light
211ML – Rosy Brown
212ML – Plum Drama
222ML – Nude
225ML – Rose Pearl
227ML – Gold Dust
241ML – Café au Lait
243ML – New Moon
245ML – Maniac
Motives Lip Crayon
37MLP – Bordeaux
39MLP – Naked
Motives Lip Shine
60MLG – Love Potion No. 9
61MLG – Pralines & Cream
Motives Luminous Translucent Pressed Powder
301MTP – Dark
Fixx Proucts
Fixx Nip n' Tuck
Fixx Stem Cell Serum
Fixx Skincare Essentials Kit
Perfume
09YOURS – YOURS by Loren Ridinger
Please also note:
The product code for Motives Khol Eyeliners have changed. Please note that only the code has changed. There is no change in price. We apologize for any inconvenience this may cause. As always, thank you for your support of Motives by Loren Ridinger!
29MEP – Angel
37MEP – Suede
38MEP – Steel
39MEP – Amethyst
40MEP – Coffee