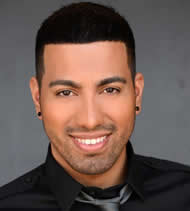 Beauty expert Daniel Chinchilla appeared on NBC's "Daytime" on Monday, December 9 through Wednesday, December 11.  During the show, he used Motives products to recreate the fantastic looks of actresses Lea Michele, Drew Barrymore, and Jennifer Love Hewit!
"Daytime" airs from either 11 a.m. – 12 p.m. or 12 – 1 p.m., so click here to check your local listings.
About Daniel Chinchilla
Daniel Chinchilla is one of the entertainment industry's leading beauty experts and trendsetters. For the past 12 years, he has perfected flawless hair and makeup looks for clients, magazine photo spreads, campaign advertisements and red carpet events.
Daniel Chinchilla's celebrity makeovers on NBC's "Daytime". 
Monday, December 9 – Recreating a Lea Michele look:
Wednesday, December 11 – Recreating a Drew Barrymore look:
Thursday, December 12 – Recreating a Jennifer Love Hewitt look: