Lumière de Vie Toner
is an intensive toner that helps to support a radiant complexion by promoting healthy skin hydration, effectively reducing the appearance of rough, dry skin for a softer, smoother complexion. The appearance of fine lines and wrinkles is visibly improved while helping the skin to maintain a healthy balance.

Results you can expect:
Helps to reduce the appearance of rough, dry skin, leaving it looking softer and smoother

Supports healthy skin hydration, for a younger-looking, radiant complexion

Helps to reduce the appearance of fine lines and wrinkles for firmer-looking skin

Restores skin chemistry with a unique pH balanced formula – essential after cleaning
Ingredients:
Lactic Acid and Allantoin
Lactic Acid (6%)
Thoroughly exfoliates skin, like Glycolic Acid, without the side effects

Accelerates cell turn-over, increasing the rate of skin rejuvenation, revealing smoother skin

Effective exfoliant that helps remove dead skin cells from the skin's surface
Allantoin
Botanically-derived with healing and soothing properties
Helps heal damaged tissue by stimulating new tissue growth
Has anti-irritant properties, helping to protect and soothe skin
Leaves skin feeling softer and smoother
Excellent for sensitive, irritated and acne-prone skin
You can purchase Lumière de Vie  exclusively at Motives Cosmetics.com.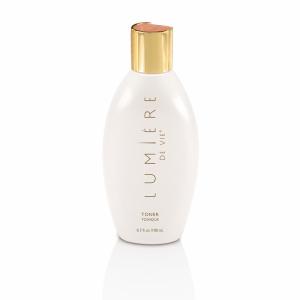 This is part 3 of 13 from our Lumière de Vie Product Series:
Lumière de Vie Toner