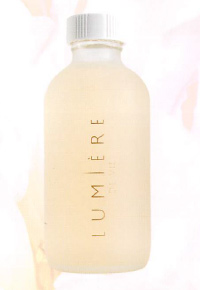 Lumière de Vie Micellar Cleanser is an all-in-one, waterless cleanser that gently removes makeup and purifies skin with no need to rinse or scrub.  Scientifically designed with micelle molecules that lift dirt, makeup and impurities on contact, this advanced formula cleanses and conditions without clogging pores, making it the perfect choice for all skin types.
Micelles are tiny balls of cleansing oil molecules that attract dirt and oil. Rather than having to scrub your skin, dirt, makeup, and impurities are gently lifted away without the need to rinse.
Results you can expect:
Gently cleanses and conditions skin while removing makeup and impurities
Waterless formula that does not require rinsing
Perfect for everyday use and to remove stubborn full face makeup looks
Formulated with micelle molecules, this cleanser does not use alcohol or harsh chemicals and therefore leaves behind a glowing, hydrated finish
Ingredients:
Water (Aqua), PEG-6 Caprylic/Capric Glycerides, Propanediol, Phenoxyethanol, Ethylhexylglycerin, PPG-33-Buteth-45, Urea, Cetrimonium Chloride, Carbomer, Allantoin, Sodium Hydroxide, Panthenol, Disodium EDTA, Citrus Aurantium Dulcis (Orange) Fruit Water, Ectoin, 3-O-Ethyl Ascorbic Acid
PEG-6 Caprylic/Capric Glycerides
A gentle cleansing agent that imparts a pleasant skin feel and also has skin conditioning emollient properties that may help the skin feel smoother and softer.
Allantoin
Allantoin has anti-irritant properties, which help protect and soothe your skin, leaving it feeling softer and smoother.
How to use Lumière de Vie Micellar Cleanser:
Pour a generous amount onto a cotton pad and gently apply to face in a circular motion. No need to rinse, follow with skincare regimen.
What step in the Lumière de Vie regimen should I use the Micellar Cleanser?
Lumière de Vie Micellar Cleanser should be used first to remove all makeup and impurities. Follow with your Lumière de Vie Facial Cleanser to help further clear your pores, allowing treatments and moisturizer to penetrate into your skin for maximum effectiveness.
This is part 11 of 13 from our Lumière de Vie Product Series:
Lumière de Vie Micellar Cleanser