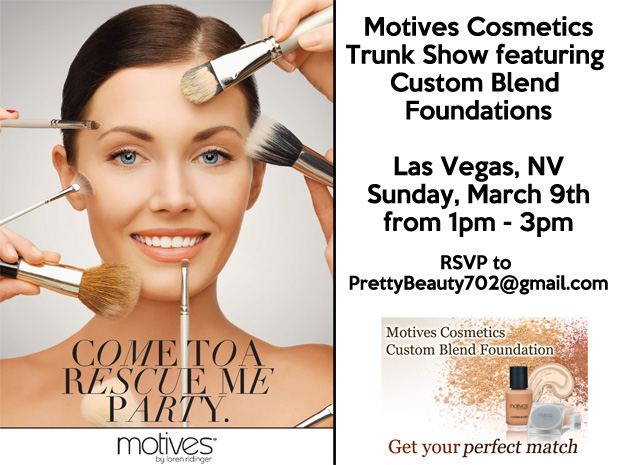 I am pleased to announce an upcoming Motives Cosmetics Trunk Show in Las Vegas, Nevada on Sunday, March 9th from 1pm – 3pm.
This fabulous event is being hosted by my dear friends, and business partners, Glynnese Coleman and Kathy Sue Boyd at a private location in the Tropicana/Durango area of Las Vegas. Due to this being a private address, it will be necessary to RSVP with Glynnese Coleman at prettybeauty702@gmail.com or (702) 689-5450. She will provide you the address when you RSVP.
Motives Cosmetics Custom Blend Foundations will be offered during the show. Again, please contact Glynnese to reserve a time slot time for your Custom Blend. Time slots are limited.
Kathy and Glynnese will also showcase the Motives Cosmetics Top 10 products and demo many, many more including Motives for La La lipsticks, lip shines, foundations, eye shadows, and new products.
Attendees will receive a discount off on their Motives Cosmetics purchases during the event so come on out and have a great time.