Lumière de Vie, the new skincare line from Amber Ridinger, was officially introduced at the Market America World Conference (#MAWC2013) in Miami, FL on January 31st – February 1st. This new line of skin care is designed to promote the natural healing process to rejuvenate all skin types and complexions!
This revolutionary line initially launched with the five products listed. We've updated this post to include information about how to apply them and in what order.
Lumière de Vie Volcanic Exfoliating Mask :
Lumière de Vie Volcanic Exfoliating Mask is formulated to detoxify, enhance skin's glow, and dramatically improve tone and radiance. Utilizing rare earth elements and infused with AHA complex and the natural oil-absorbing power of kaolin and bentonite clays, this treatment creates a balanced, detoxifying/exfoliating action that leaves skin glowing, revitalized and healthy. This intensive treatment will resurface and reduce fine line and wrinkles, as well as brighten and smooth skin's texture.
Application: 1 to 2 times per week as desired.
Lumière de Vie Illuminating Fading Fluid :
Lumière de Vie Illuminating Fading Fluid is a powerful formula that instantly illuminates the skin, while it minimizes the appearance of dark spots and reduces the appearance of redness. Transform the skin with a powerful hydrating complex that leaves the skin soft and provides optimal hydration. Potent properties reduce the appearance of aging and refine tone. Restore radiance for a flawless complexion.
Application: Apply to freshly cleaned skin twice daily.
Lumière de Vie Serum Concentrate :
Lumière de Vie Serum Concentrate is the next generation skincare that utilizes nature and science with potent lighteners, powerful antioxidants and the power of the sea. Potent extracts that promote healthy skin collagen for firmer-looking skin, while reducing the appearance of fine lines, delivering extreme radiance, clarity and renewal.
Application: Apply twice daily after Illuminating Fading Fluid.
Lumière de Vie Intensive Hand & Body Crème:
Lumière de Vie Intense Rejuvenation Crème is a super hydrating, intensive repair treatment developed for chronically stressed skin and designed to work with the skin's renewal process. An ultra rich, fast-absorbing formula specifically formulated to reduce the appearance of lines, wrinkles and age spots as it imparts skin with improved radiance and newly-found firmness.
Application: Apply morning and night for optimal results, after the Serum Concentrate.
Lumière de Vie Eye Balm :
Lumière de Vie Eye Balm helps to soothe and reduce the appearance of puffiness, while deeply conditioning and hydrating the delicate eye area. The appearance of fine lines and enlarged pores is dramatically improved while helping to firm the skin in the most delicate places.
Application: Using the applicator, sweep onto the eye area in the morning and night. Apply after the Rejuvenation Crème.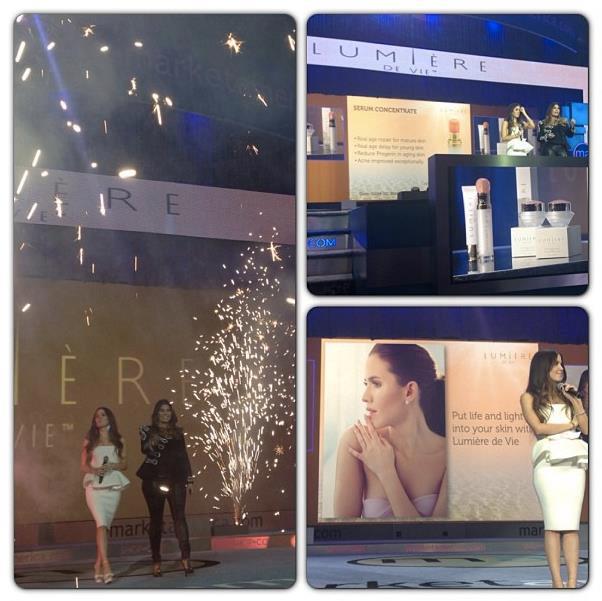 You can purchase Lumière de Vie products now at Motives Cosmetics.com.

---
For more detailed information, please see our 10 part Lumière de Vie Product Series: