"Most breast cancer is in the body five to eight years before it can be detected through current methods. Earlier detection may prevent invasive surgery, minimize treatment and dramatically increase survival chances. Our single mission is the discovery of an innovative biological test to detect breast cancer earlier. Help us get there. Earlier. Sooner. Now."  -Earlier.org
From October 1 – 31, in recognition of Breast Cancer Awareness Month, a portion of the sales of two of your favorite Market America-branded products will be donated to Earlier.org, an organization dedicated to early detection of breast cancer.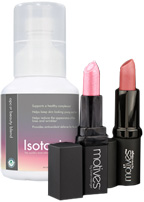 For every Motives Mineral Lipstick – Aware that is sold, $1.00 will be donated to support the fight against breast cancer. In addition, $2.00 will be donated for every bottle of Isotonix OPC-3® Beauty Blend sold.
Motives Mineral Lipstick — Aware – Code: 110ML | SR: $15.75
Isotonix OPC-3 Beauty Blend – Code: 13997 | SR: $73.50
Motives Cares: Click Here to find out more.
Join Market America and SHOP.COM to increase awareness, and together we can make a difference this month! Please help to promote beauty, from both the inside and out, and help as we stand in support of this cause.