In this video, Loren and Amber Ridinger discuss the importance of using MA skin care products at Taiwan 2012 Leadership School. It was in this presentation that Lumière de Vie was revealed.
Introducing a Revolutionary New Skin Care line from Amber Ridinger.
New York, NY (PRWEB) January 24, 2013


Beauty and Fashion expert Amber Ridinger announces the January 31st launch of Lumière de Vie, the next generation of skincare.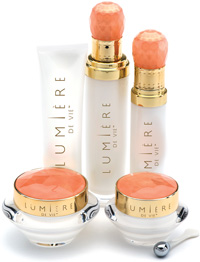 Lumière de Vie is a high-end brand designed to promote rejuvenation of all skin types and complexions. This skincare line includes five initial products: Serum Concentrate, Rejuvenation Crème, Illuminating Fading Fluid, Volcanic Exfoliating Mask and Eye Balm.
For years, Amber managed her own skin conditions by using countless costly crèmes, but only experienced marginal results at best. She realized the revitalization of her youthful skin could only occur if she developed the next generation of skincare products herself.
After working closely with beauty scientists and exploring the most advanced ingredients derived from the earth and sea, Amber created this extraordinary line. Lumière de Vie is in a category all its own yet is more affordable than competing brands.
Lumière de Vie promotes a revitalized radiance, improved clarity and younger-looking skin. These products were developed to promote the natural healing process to rejuvenate all skin types and complexions. The result: rejuvenated, luminous, beautiful looking skin.
You can purchase Lumière de Vie products exclusively at SHOP.com
---
For more detailed information, please see our 5 part Lumière de Vie Product Series: